In their longest game of the season in terms of both innings and time, the Red Sox saw their six-game winning streak come to an end on early Wednesday morning, as they fell to the Minnesota Twins by a final score of 4-3 after 17 marathon innings.
Making his 13th start of the season for Boston in the middle game of this series was David Price, who like Rick Porcello before him, entered Tuesday with a solid history when working at Target Field.
Tossing five full innings this time around, the left-hander yielded just one earned run on four hits and no walks to go along with a pair of strikeouts on the night.
That one run came out in Minnesota's half of the fourth, when back-to-back two-out knocks from Eddie Rosario and CJ Cron got the home side on the board immediately after the Red Sox had done so themselves.
Other than that, Price sat down three of the last four hitters he faced in the fifth, and that would be how his outing came to a somewhat abrupt end.
Finishing with a final pitch count of just 73 (49 strikes), the 33-year-old hurler relied on his four-seam fastball nearly 44% of the time he was on the mound Tuesday, inducing two swings and misses and topping out at 93.9 MPH with the pitch while Christian Vazquez was behind the plate.
Hit with the no-decision while his ERA on the season lowered to 3.39, there should be no injury concerns involved with Price going forward. Per Sox manager Alex Cora, "[Tuesday] was one of those that we felt like I was going to take care of him. He threw the ball well but as you guys know, he's a guy that we really have to take care of." Price's next start should come against the Chicago White Sox next week.
In relief of Price, the Red Sox bullpen was put to the test similarly enough to the way they were this past Sunday in Baltimore.
Mike Shawaryn got a long night started for the 'pen by putting men on the corners on the first two hitters he faced, but with the help of Christian Vazqez, did not allow either to score before loading the bases with two outs and again escaping a jam by fanning Miguel Sano on three straight strikes.
Ryan Brasier came on in the seventh moments after Rafael Devers had given Boston a 2-1 lead, and he too received some assistance from his defense, with Jackie Bradley Jr. doing his best Spider-Man impression to rob Jorge Polanco of extra bases and retire the side.
In the eighth, Brandon Workman was charged with his third blown save of the season after walking the leadoff man in Mitch Garver and allowing him to tie things up at two on an RBI single from Max Kepler.
2-2 is where this one stood for quite a while, as Matt Barnes, Josh Taylor, and Colten Brewer combined for four scoreless frames from the ninth until the 12th before making way for Hector Velazquez in the bottom of the 13th.
There, after his side had taken a one-run advantage in the top half of the inning, the right-hander gave that back right away by serving up a leadoff solo shot to Kepler, once again knoting things up at three runs each.
Velazquez did settle in after that mishap though, as he pushed his way through the 16th, but had to be removed after coming out for the 17th after being unable to continue.
And in that 17th, two days after he made his first start of the year in Baltimore, Brian Johnson allowed two of the first three Twins he faced to reach, although before doubling, Eddie Rosario's right foot very well could have been out of the batter's box while trying to lay down a bunt.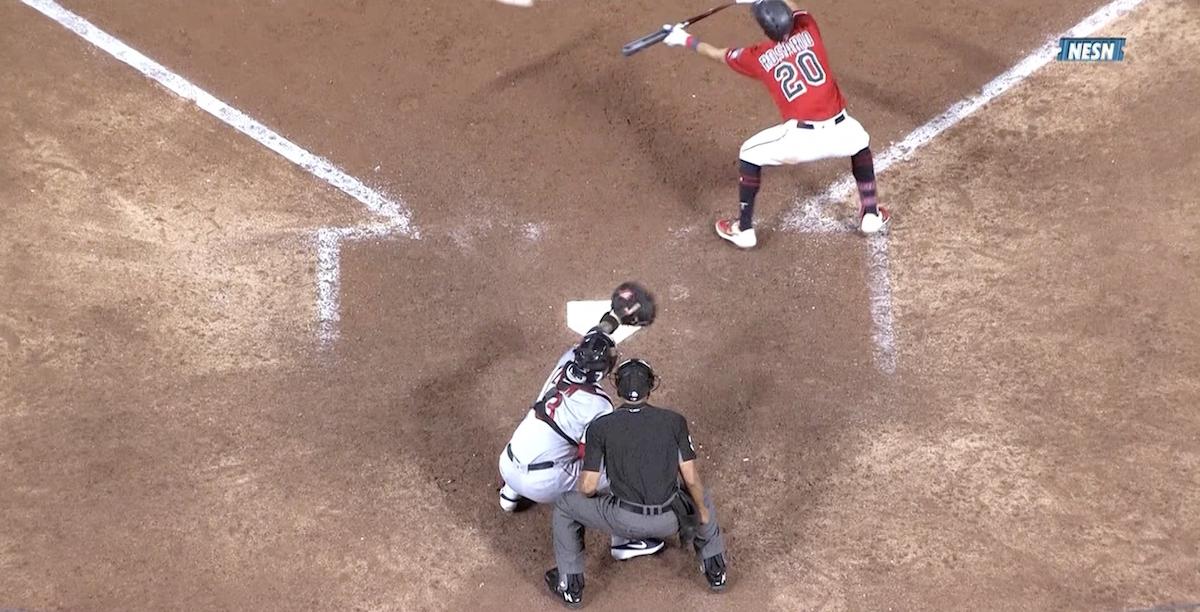 Nothing came of it, however, and Rosario's double would prove to be costly, as Johnson intentionally walked CJ Cron to load the bases, and Kepler ended things by ripping the game-winning RBI single down the right field line.
In total, Boston used eight pitchers on Tuesday/Wednesday not named David Price. Marcus Walden was not available.
On the other side of things, the Red Sox lineup was matched up against a fairly familiar opponent in Twins right-hander Michael Pineda, who missed all of last season while recovering from Tommy John Surgery.
Like Price, Pineda only limited his opposition to one lone run, and that came courtesy of a Mookie Betts leadoff walk and a Rafael Devers two-out RBI single in the fourth to put the Sox on the board.
Fast forward to the seventh, with Pineda out and new reliever Ryne Harper in for Minnesota, Devers struck again, this time launching his 12th home run of the season, a 374 foot leadoff shot to give his team the 2-1 advantage.
As mentioned before though, that advantage did not last all that long, and this contest headed into extras, where the Sox had plenty of chances to tack on some runs, but could only come away with one.
That one, a 380 foot solo shot off the bat of Mookie Betts to lead off the 13th inning against Mike Morin, probably should have been enough to send Boston home with a win. But, Hector Velazquez buckled in the latter half of the frame, and the Red Sox were unable to score again.
The offensive struggles were especially evident in the 17th, where Andrew Benintendi reached third with no outs on a leadoff single, a stolen base, and Minnesota throwing error.
The middle part of the lineup, JD Martinez, Devers, and Xander Bogaerts, all had their shot to drive Benintendi in, but came up short, and the Twins capitalized on that inability by walking things off a half inning later in a marathon game that ended in a 4-3 final.
Some notes from this loss:
Red Sox with runners in scoring position Tuesday/Wednesday: 1-for-13. They left 14 men on base.
JD Martinez on Tuesday/Wednesday: 0-for-8 with five strikeouts.
From The Boston Globe's Alex Speier:
—
With that, the Red Sox' six-game winning streak has come to an end.
For the finale of this three-game series, it will be a pitching matchup featuring a left and right-handed pitcher, with Eduardo Rodriguez getting the ball for Boston and Kyle Gibson doing the same for Minnesota.
Coming off one of his better starts of the year in his last time out against the Orioles where he surrendered just one run over seven quality innings of work, Rodriguez brings with him a lifetime 5.91 ERA over two prior starts and 10 2/3 total innings pitched at Target Field.
Gibson, meanwhile, is also fresh off a dominant outing, as he held the Kansas City Royals scoreless on just two hits in an eight-inning win last Friday.
In his career against the Sox, the 31-year-old is 2-3 with a 2.68 ERA over six starts and 40 1/3 innings of work.
First pitch Wednesday is scheduled for 8:10 PM EDT on NESN. Red Sox going for the series win.