Not gonna lie, after the Red Sox lost their second straight game to the Houston Astros on Friday night, I was not feeling too confident about the rest of the series. With Justin Verlander and Charlie Morton taking th mound for the Astros, I honestly thought the Red Sox were going to head back home on Sunday night having gotten swept by arguably the best team in the American League. Instead of that though, they battled back, and thanks to great performances from David Price and Rick Porcello, they left Houston last night with a series split. Not too shabby.
Yup, Porcello made his 13th start of the season in this one, and he found himself working around a solid amount of baserunners all night.
Things did not get off to the best of starts for the righty, as Astros leadoff hitter George Springer greeted Porcello with a solo home run on the third pitch he saw. After that though, the Astros were held to just two runs in the seven innings Porcello appeared in.
As I previously mentioned, Porcello was dealing with runners on base throughout the night. In fact, the Astros led off every inning other than the fourth by reaching base at least once before the first out was recorded. Despite that fact, the Red Sox starter manevured his way around five hits, two walks, and two HBPs in total to earn his eighth winning decision of the season.
When he made his way to the mound for his seventh inning of work with a pitch count of around 75, I thought Porcello had a chance to toss a complete game. Instead, similar to his last time out against the Blue Jays, the New Jersey native sort of let things fall apart in his final frame of work. In neither of those outings did things get away from the Red Sox, but I just find it interesting how in his last two starts, Porcello has surrendered two runs in the seventh inning, and he was not able to finish the seventh in both of those outings.
Anyway, having gotten himself in a bit of a jam with only one out in the seventh, Matt Barnes came on to replace Porcello in a high-leverage situation. Facing Jose Altuve with runners on first and second, the UCONN product retired the side in a big way by striking out Altuve and getting Carlos Correa to ground into an inning-ending force play at second base.
Coming back out for his second inning of work in the eighth, Barnes needed just 15 pitches to retire the side in order and earn his 14th hold of the season. Definitely a great night for him.
With this game out of reach going into the bottom of the ninth, Heath Hembree worked his way around two walks in a scoreless inning of work to wrap this game and series up while also providing us with this epic shot from ESPN.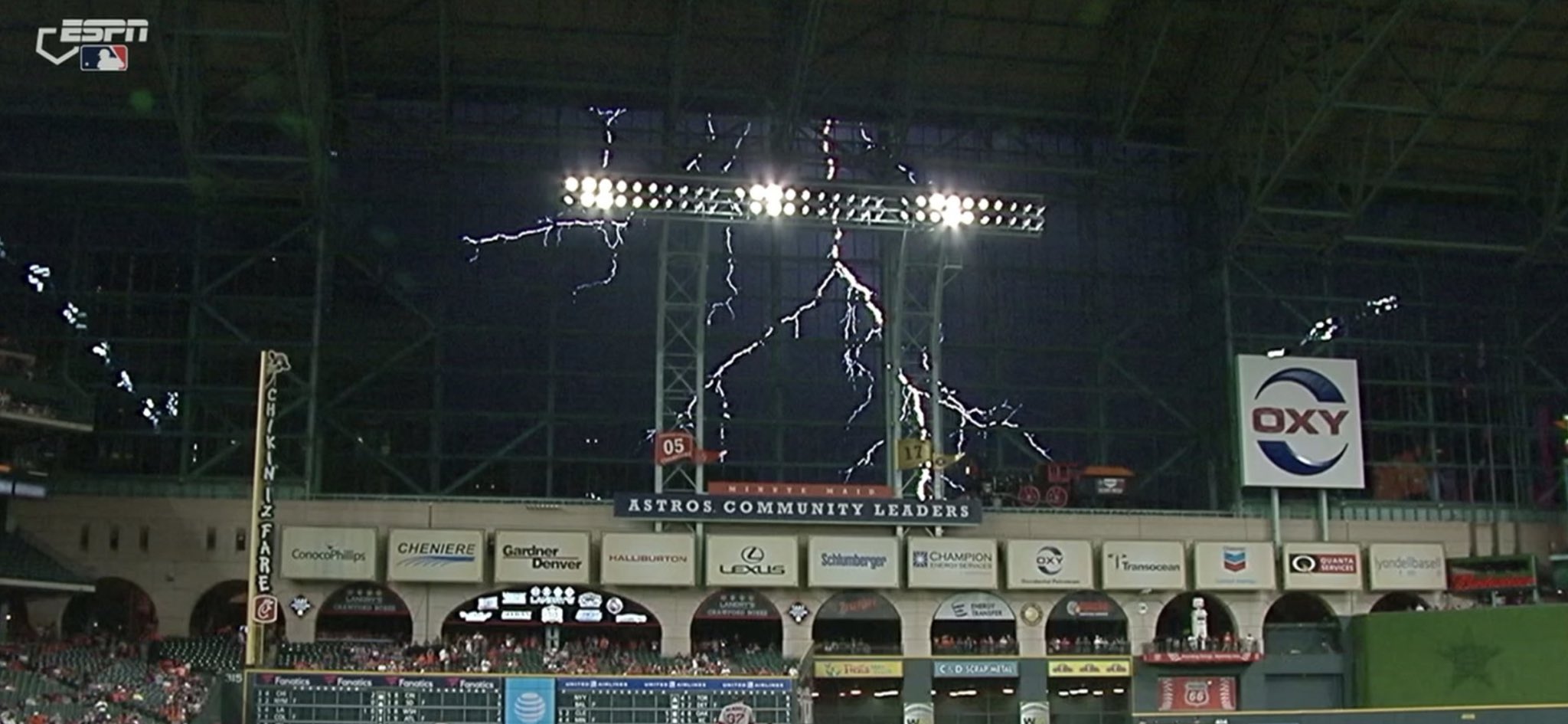 On the other side of things, the Red Sox lineup struck first for the second night in a row. Andrew Benintendi got things started with a leadoff double off of Astros righty Charlie Morton, and Mitch Moreland brought him home three batters later on his 10th home run of the season.
441 feet with an exit velocity of 107.3 MPH on that shot.
Fast forward to the fifth, and Andrew Benintendi came through with a one out home run on the first pitch he saw from Morton, which just so happened to be an 88 MPH cutter on the inner half of the plate.
406 feet on that home run from Benintendi, with an exit velo. of 103.3 MPH as well on his ninth big fly of the season.
An inning later, back to back hits from Brock Holt and Blake Swihart with runners on base tacked on another three runs to the Red Sox lead and that would be the end of the night for Charlie Morton. Giving up a whopping six runs, this was his worst start of the season.
Things did not fare better for the Astros when they turned to their bullpen though, as Brock Holt struck once again in the eighth inning off of Collin McHugh on an RBI single.
And finally, pinch-hitting for JD Martinez in the ninth, the recently called up Sam Travis came out of nowhere and lined a two-run single off of Ken Giles to put his team up 9-3, which ended up being the final score.
Some notes from this win:
In the ten games he has appeared in since giving up two runs to the Yankees on May 9th, opponents are hitting .135 off of Matt Barnes in 11 shutout innings.
As of May 11th, Andrew Benintendi's slash line was sitting at .243/.335/.404. In 21 games since then, he is slashing .388/.457/.763 with 7 HR and 23 RBI.
—
The Red Sox got beat up a little bit on Sunday night. JD Martinez had to exit with back spasms in the ninth inning, Xander Bogaerts appeared to be limping after scoring from second in the ninth, and Eduardo Nunez took a hard groundball off his face at third. Luckily for them, Monday is an off day for the Red Sox, as they will kick off a three game series against the Detroit Tigers on Tuesday.
For that opening game, it will be righty Artie Lewicki on the mound for Detroit, while Steven Wright gets the start for Boston. This doesn't mean that anyone has lost their spot in the rotation, it just means that all the other starters are getting an additional day of rest. First pitch is scheduled for 7:05 PM on Tuesday back at Fenway Park.