After an off day on Monday, the Red Sox and Yankees began a three-game series at Yankee Stadium for the first time this season last night. With the two best records in all of baseball, this series has some serious potential although it is only the beginning of May.
Drew Pomeranz got the start in this one for the Red Sox, and he was surprisingly good. I'll be honest, I thought the lefty was going to get shelled by the Yankees lineup last night, especially during the second inning. Giancarlo Stanton hit his first of two home runs of off Pomeranz to lead off the frame, and that was followed by a walk, an injury delay, and then another walk. It appeared that Pomeranz was having an issue with one of the fingernails on his throwing hand last night, and that's what caused the delay.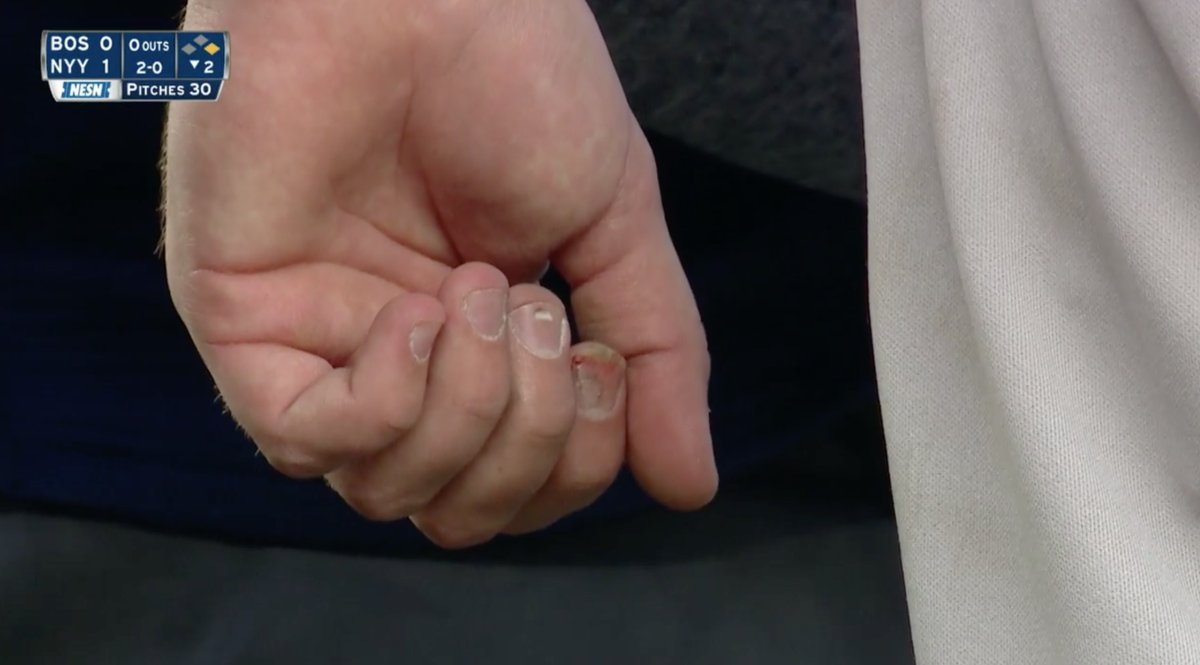 Luckily for the Red Sox, Pomeranz was able to deal with any sort of discomfort he was feeling and tossed five innings of one-run ball after that. The Yankees tacked on their second run of the night on another Stanton homer, but that was all Pomeranz gave up. With his pitch count at a season-high 107 (62 strikes) after recording the last out in the bottom of the sixth, Pomeranz's day would be done. The Tennessee native finished with a pitching line of 6 IP, 4 H, 2 ER, 2 BB, and 6 K's. All things considered, not too shabby for Pomeranz, a performance worthy of a win, that's for sure.
In relief of Pomeranz, it was Heath Hembree who got the call for the seventh. After recording the first out of the inning on two pitches, the righty followed that up by loading the bases on his next 18. With the game tied at two at the time, Alex Cora would turn to Joe Kelly to get out of a very tight situation, and he was greeted by the Yankees faithful with plenty of boos.
Aaron Judge was the first batter Kelly faced, and he ripped a single to left field. That scored Neil Walker from third and it looked like it was going to score Gleyber Torres from second as well. However, a great throw to home and outfield assist from Andrew Benintendi prevented that from happening.
https://www.mlb.com/video/benintendi-nabs-torres-at-home/c-2022043483?tid=6479266
After getting Didi Gregorius to ground out to end the inning, Kelly would come back out for the eighth. A leadoff walk to Giancarlo Stanton, a stolen base, and a wild pitch eventually led to there being one out and a runner at third. Facing Aaron Hicks, the Red Sox flamethrower got the Yankees outfielder out on a fielder's choice. Thanks to Hanley Ramirez, Stanton was ruled out at the plate.
https://streamable.com/m/2022175183
Carson Smith would be up next from the Red Sox bullpen, and he struck out Miguel Andujar on four pitches, the only batter he faced.
On the other side of things, Yankees starter Luis Severino put on quite the performance on the mound last night. He held the Red Sox to their only two runs of the game in six-plus innings of quality work.
Andrew Benintendi got the scoring started for the Red Sox in the top half of the fifth. After Eduardo Nunez led off things by striking out and reaching on a wild pitch, Mookie Betts moved him up to second three batters later on a hard hit single to center field. Next up was Andrew Benintendi, and he lined a single of his own to center which allowed Nunez to come around and score from second. One run game.
Fast forward to the seventh, Eduardo Nunez led things off once again, and he reached base yet again, this time on a single. Another three batters later, Mookie Betts scored Nunez on a triple that got by Brett Gardner in left field.
https://www.mlb.com/video/betts-rbi-triple-in-the-7th/c-2021891283?tid=6479266
That knotted things up at two runs a piece, but the tie would not last long, as the Yankees scored the go-ahead run a half inning later. After a scoreless eighth, the Red Sox lineup would have one last chance to make a game out of this one in the ninth against Yankees closer Aroldis Chapman.
In the past, Chapman has looked shaky while facing the Red Sox, but that was not the case last night. He gave them a shot by putting Jackie Bradley Jr. on first after hitting him in the elbow with a 103.3 MPH fastball, the hardest thrown pitch so far this season.
With a runner on first and two outs, Alex Cora stuck with Christian Vazquez in a huge spot. That move did not pay off though, as Vazquez grounded out to Gleyber Torres to end the game.
With that loss, the Red Sox fall to 25-10, and with that win, the Yankees improve to 25-10. David Price was supposed to pitch tonight, but he got sent home because of a finger issue. Instead, it will be Rick Porcello making the start against Masahiro Tanaka and the Yankees tonight. First pitch is scheduled for 7:05 PM.