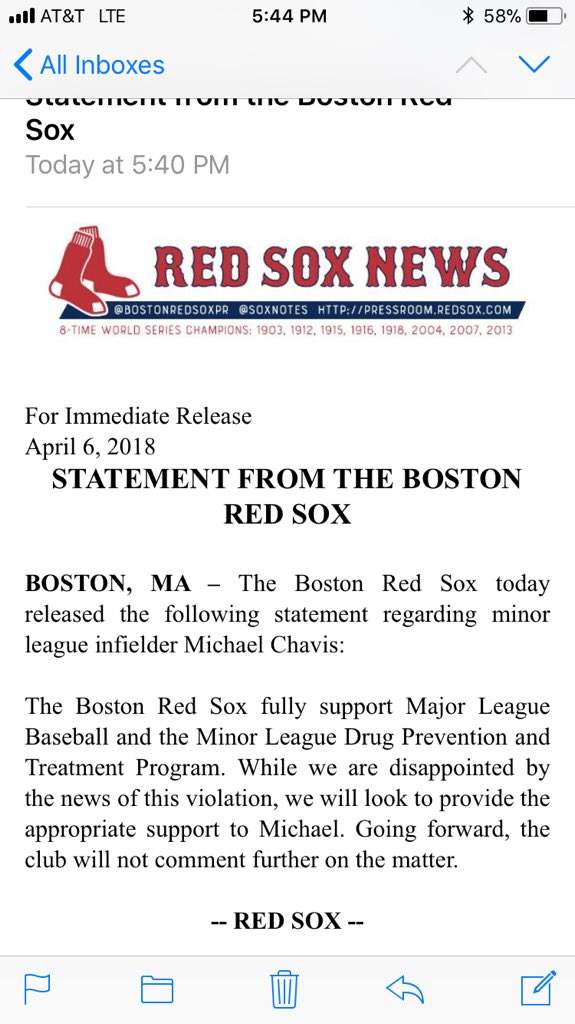 Statement from Chavis:
Well, this news stinks. The number one prospect in the Red Sox organization, Michael Chavis, has been suspended 80 games by Major League Baseball for the use of PEDs. Chavis, 22, tested positive for the drug Dehydrochlormethyltestosterone this past offseason, and will not receive pay while he is suspended.
Dehydrochlormethyltestosterone is a drug players have tested positive for in the past. Just two seasons ago, Massachusetts native Chris Colabello, then with the Toronto Blue Jays, received an 80 game suspension for testing positive for the same drug.
Chavis has stated that he was not aware of taking any banned substance, but that doesn't matter now. Already blocked by Rafael Devers at the major league level, the third baseman will miss out on a chance to further develop at first base, which he had been doing, and garner any sort of trade interest from other teams.
Having been in the Red Sox farm system for nearly four years, I found this news to be quite disappointing. It took some time, but last season was the best one Chavis has had as a minor leaguer, as he posted a career high .910 OPS between Single A Salem and Double A Portland. Could he have been using then? Probably, his numbers don't look so great if you take away what he did in 59 games with Salem to start the 2017 season. Now, he'll have to wait until sometime in July until he can take the field again in an organized game.
2016 first round pick Jay Groome takes over as the number one prospect in the Red Sox organization, if that's how the rankings work.