If Major League Baseball is to be played in 2020, the Red Sox will play 60 games in 65 days against American and National League East opponents beginning on July 24th.
The league released this year's schedules for all 30 clubs on Monday evening via an MLB Network TV special. Here's how the Red Sox' season will go over the next two-plus months: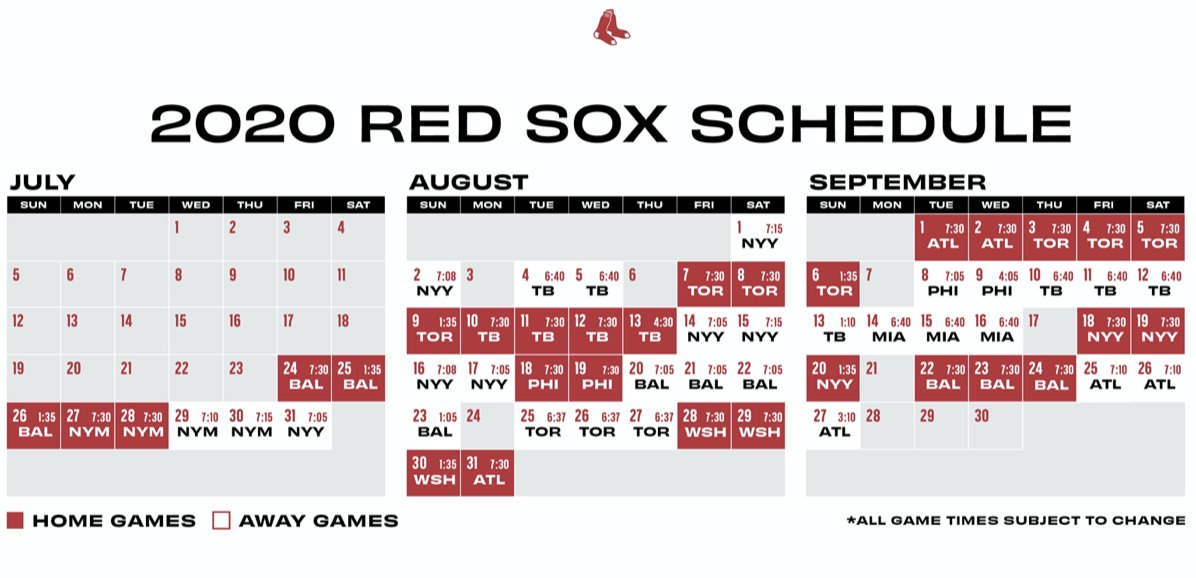 First off, the Sox will open the truncated season with a three-game series against the Baltimore Orioles at Fenway Park. In other words, Boston's home opener will be on July 24th with first pitch at 7:30 PM eastern time.
From there, the homestand continues with a two-game interleague series against Rick Porcello and the Mets before the club embarks on a seven-game road trip that includes stops in both Queens and the Bronx as well as Tampa Bay.
The Sox' first set of road games will be followed by a seven-game homestand against the Blue Jays and Rays before again facing off against the Yankees in a four-game set in New York.
Boston's final trip to Yankee Stadium will be succeeded by a quick two-game series against the Phillies at Fenway and a lengthy trip to Baltimore and then Toronto for seven games against the O's and Jays.
After getting back home to Boston from Toronto, the Sox will get to enjoy their longest homestand of the season, a 10-gamer in which the club will host the defending World Series champion Nationals, the Braves, and Blue Jays in three separate series.
As it turns out, that homestand comes immediately before the longest roadie of the 2020 campaign, a nine-game venture that features match-ups against the Phillies, Rays, and Marlins in that order. In other words, a trip to southeastern Pennsylvania will be followed by a week-long stay in Florida.
Upon arriving back to Boston from Miami, the Sox will wrap up the home portion of their schedule by welcoming the Yankees and Orioles into town for two separate three-game series. For the Yankees, it's their lone trip to Fenway on the year.
Finally, the Red Sox will travel to Atlanta and finish their season series as well as the 2020 regular season as a whole against the Braves at Truist Park. That is, if all goes according to plan, of course.
60 games total, 40 of which will come against divisional opponents.
Based off the schedule above, it would appear that 23 of the 30 home games the Red will be playing in start at 7:30 PM eastern time. That doesn't sound like the best of ideas in my opinion, but hey, the season might not even happen because of this whole global pandemic thing going on, right?