Coming off a 3-3 homestand against the Detroit Tigers and Chicago White Sox, the Red Sox embarked on a 10 game road trip with the first stop coming in Baltimore. Facing off against a 19-45 Orioles team, Steven Wright and the Red Sox bullpen gave up absolutely nothing in a twelve inning win.
Making his second start of the season, Wright extended his scoreless inning streak to 23.2 in a solid effort last night. Pitching into the seventh inning, the knuckleballer scattered four hits and three walks while fanning five.
It was not until his final frame of work when Wright finally ran into a bit of trouble, and that happened when he allowed three consecutive Orioles to reach base, which loaded the bases with two outs to end his night. With his pitch count at 93 (58 strikes), Alex Cora turned to Joe Kelly to get the most crucial out of the game.
Adam Jones, who had already reached base twice up to this point, had been a career .250 hitter when facing Kelly, but those numbers got a little worse because the Red Sox flamethrower got Jones to strikeout on five pitches to end the inning, thus killing any shot at an Orioles rally.
From the bottom half of the eighth on, the Red Sox bullpen continued to shut down the Orioles lineup. Kelly, Brian Johnson, Brandon Workman, and Heath Hembree combined to toss 4.1 scoreless frames while limiting the O's to just one hit and three walks.
Combine that with the Red Sox finally tacking on a pair of runs in the top half of the 12th, and Craig Kimbrel was all set up to notch his 21st save of the season. The closer led things off by questionably walking Craig Gentry, but bounced back by striking out the next three batters he faced on 15 pitches. Ballgame over.
On the other side of things, the Red Sox lineup got Mookie Betts back for the first time in over two weeks, but could not do much against Orioles pitching either. In fact, their ace, Dylan Bundy, had arguably his best start of the season against one of the better run producing teams in the American League.
Oh, they had their chances, but those did not come until late in this one. Up until the start of the 11th inning, the Red Sox sent more than three batters to the plate just five times last night and that did not translate in to any runs scored.
If you fast forward to that 11th inning, you'll realize that Mookie Betts, Andrew Benintendi, and JD Martinez loaded the bases with two outs for Mitch Moreland. With Orioles reliever Mychal Givens, on the bump, Moreland got ahead and had a 3-0 count to his advantage. After taking the next two pitches for strikes to fill the count, the Red Sox first baseman could not keep up with a 96 MPH fastball from Givens and struck out while simultaneously leaving the bases loaded.
Luckily though, a similar situation presented itself in the 12th when, with Givens still on the mound, a single and a double from Xander Bogaerts and Rafael Devers and a Eduardo Nunez HBP loaded the bases with no outs this time.
Celebrating his 30th birthday, Brock Holt was due up next, and he came through with a 296 foot sacrifice fly to center field.
That allowed Bogaerts to score from third with plenty of time to spare while Devers and Nunez advanced into scoring position at the same time.
Now, to add on some insurance, Jackie Bradley Jr. delivered with a sacrifice fly of his own. This one scored Devers from third to put the Red Sox up by two, which is all Craig Kimbrel would need in the bottom half of the inning.
Some notes from this win:
Mookie Betts went 1/5 with a single in his return to the Red Sox lineup last night. He was taken out of the game in the middle of the 11th for precautionary reasons.
Rafael Devers accounted for his teams only extra base hit on the night when he hit his 14th double in the 12th. He made a handful of great plays at third base as well.
In four appearances this season, Brandon Workman has yet to give up a run and has only surrendered two hits and one walk in 4.1 innings pitched.
Happy belated birthday to Brock Holt. Position player of the game IMHO.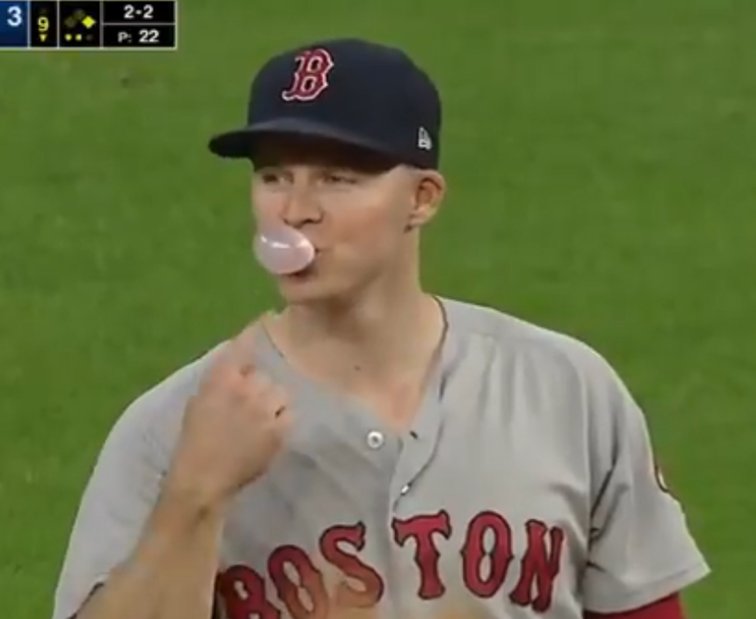 —
With the series opener in the books, Eduardo Rodriguez will toe the rubber for the Red Sox in the middle game of this three game set later tonight. He will be matched up against righty David Hess for the Orioles, who, in his last start against Boston on May 20th, gave up five runs in less than five innings pitched. First pitch is scheduled for 7:05 PM once again.