For the second straight season, the Red Sox are champions of the American League East. That has never been done before in franchise history. Well, it did, but divisions didn't even exist when it happened more than 100 years ago.
Drew Pomeranz capped off his great season by pitching six plus innings of one run ball. The lefty really limited the Astros, as he only allowed five baserunners to reach over that span. He finishes the regular season with an ERA of 3.32, the best it's been since he was traded to Boston last season. In relief of Pomeranz, the bullpen had a few shaky moments. Carson Smith failed to record an out after coming on in the seventh while allowing a run. This made way for David Price to pitch for the second time in less than 24 hours, and he was NAILS. Got the first two outs with some help for Brock Holt, walked Tyler White to load the bases, then proceeded to strike out George Springer in a key situation. So, since September 27th, Price has pitched four innings, faced thirteen batters, and struck out SEVEN of them. He's ready, I'm ready, it's going to be electric watching him come out of the pen next week. Addison Reed came on to pitch a scoreless eighth, and Craig Kimbrel served up a solo shot to Brian McCann in an otherwise perfect inning, not statistically, he just closed the door on the division.
Offensively, the Red Sox never trailed in this game. Hanley Ramirez got the scoring started in the fourth and they never looked back. Rafael Devers, Andrew Benintendi, Mitch Moreland, and Mookie Betts all contributed as well. Benny joined the 20/20 club with a stolen base in the fifth, and Mookie blasted his 24th and final regular season home run of the year in the seventh, and that pretty much secured the W by upping the lead to four runs.
Xander Bogaerts is looking like his true self leading off, and Hanley might be coming out of his month-long slump too.
I'm having a great time watching these guys celebrate, and it feels a whole lot more satisfying than it did last year. Tomorrow's game really doesn't matter, as the Red Sox will head to Houston to start a five-game ALDS on Thursday night. Chris Sale will get the ball after getting nine days off. There will be plenty of eyes on Sale, who has never pitched in the playoffs before, but I'm not worried. A maniac like Sale will surely pump it up once he takes that mound in Houston.
There's still one more regular season game to be played, and I'm positive none of the regulars will play long or maybe at all. Everyone's ready for real October baseball to start. It's not going to be easy, it never is. For now though, I'm chilling.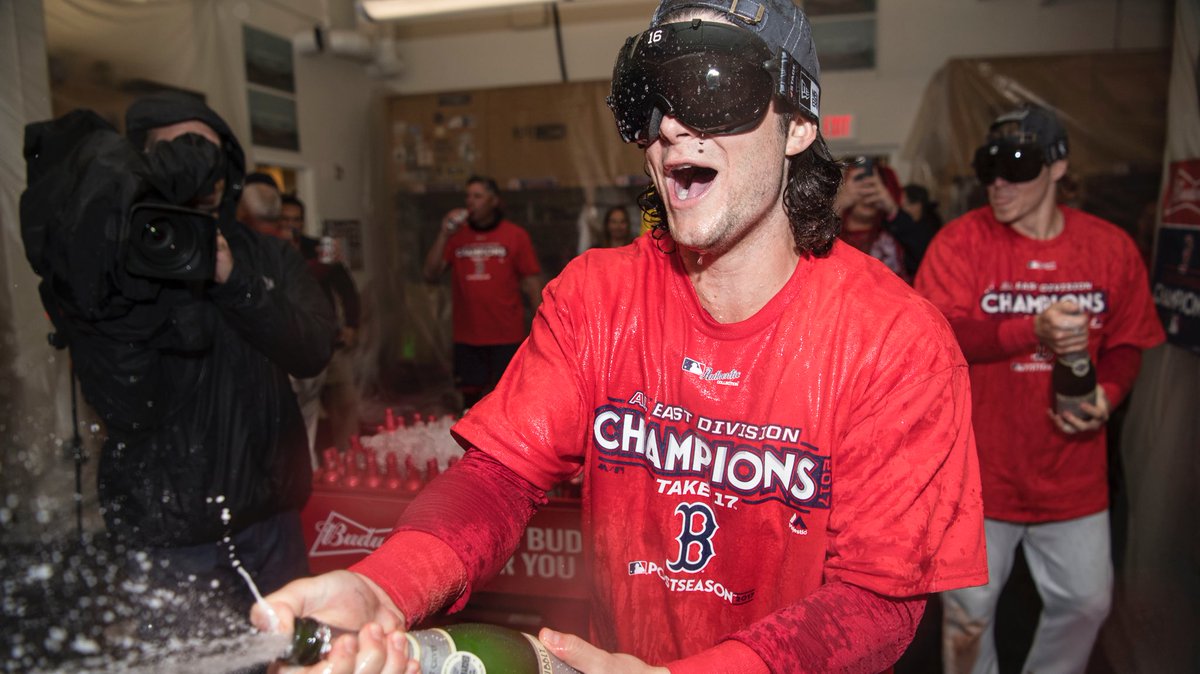 93 down, 1 to go.