Looking to build on his 2017 debut, David Price took the mound to face the Baltimore Orioles for the first time this season. Price was great, while also being very effective with his pitch limit. The 2012 Cy Young Award winner went deeper into the game than he did in Chicago, pitching 7+ innings, surrendering three hits and only one run, while striking out seven Orioles. The only real trouble Price ran into came in the bottom of the seventh, when Manny Machado took the southpaw deep for his twelfth homer of the year. I was surprised to see Price come out for the eighth, but as it turns out, he would only face one batter before his day was over. The funny thing was that Price struck Jonathan Schoop out, but because of a passed ball by Christian Vazquez, Schoop was able to reach first. I think it's safe to say this is what Red Sox fans wanted to see out of David Price. Through his first two starts, Price's ERA currently sits at a solid 3.00. Both of his starts have come on the road, so I'm interested to see how he will perform when he makes his first start of the year at Fenway.
John Farrell only needed two other pitchers to secure the win, but Joe Kelly and Craig Kimbrel were not at the top of their game. Kelly came in to relieve Price in the eighth, and he was able to get J.J. Hardy to hit into a double play right out of the gate. Unfortunately for Kelly, the next two batters he faced reached base, setting up Craig Kimbrel to come into the game with the chance to get a four out save. Kimbrel got out of the inning easy, but the ninth was a different story. I'm not trying to defend Kimbrel too much here, but I really think he was affected by the fact that the Red Sox made it a four-run game in the top of the ninth. Anyway, Kimbrel gave up his first run in forever, but that didn't stop him from picking up his sixteenth save of the season.
The Red Sox offense didn't need to score a ton of runs thanks to David Price. Hanley Ramirez was the star of the game, potentially breaking out of a power struggle by going 2 for 3 with a home run, a double, a walk, and three RBIs. It was also nice to see Mookie Betts get two hits and an RBI since he has been struggling recently. Xander Bogaerts also drove in a run Saturday, scoring Mookie Betts from third on a fielder's choice in the eighth.
Chris Sale gets the start today, looking to rebound from his worst start in a Red Sox uniform that took place in Chicago. With the chance to leave Baltimore with a split, I expect Chris Sale to be lights out Sunday.
Also, shout out to Mitch Moreland for this catch on an awful throw from Pablo Sandoval: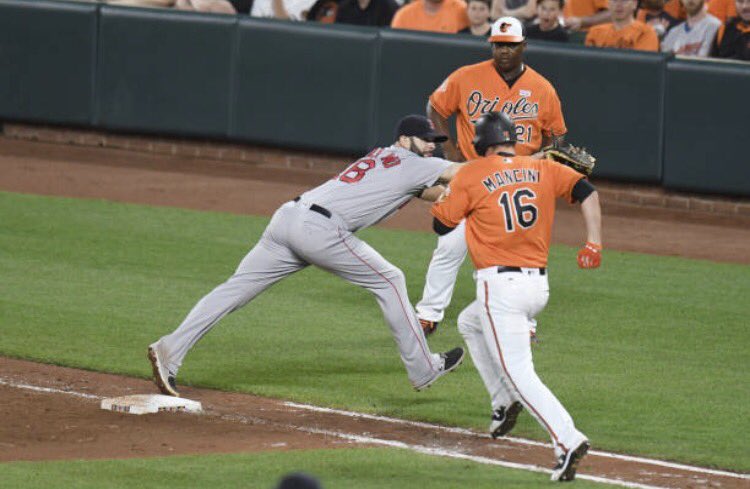 30 down, ? to go.