What a difference in quality of starting pitching between Hector Velazquez on Thursday and Chris Sale on Friday. Sale was matched up against Kendall Graveman, and to nobody's surprise, Sale put in the better performance. He got things started right away, striking out the first batter he saw, Rajai Davis. After going the first four innings without allowing a run, Sale would run into some trouble over the next two innings. In the fifth, the Athletics managed to get one run across the plate, while reaching base twice. In the sixth, they scored another run, while also recording three hits. Those would be the only runs Sale would surrender in the seven innings he pitched. There was a bit of drama in the seventh, when Sale only had eight strikeouts with one out in the inning already. With his streak of starts with at least 10 K's on the line, Sale struck out the last two batters he faced, getting to 10 strikeouts and extending his streak up to eight consecutive starts. With the way he pitched Friday night, Sale deserves a win for that performance, even when he's not at his best, he still gives you solid outings, he deserves more in return for his efforts. Before the game went into extras, Joe Kelly and Craig Kimbrel held things down in terms of giving up any runs. In the ninth, just when it looked like Ryon Healy hit a walk-off home run, Jackie Bradley Jr. made one of the more outstanding home run robbing catches you'll see.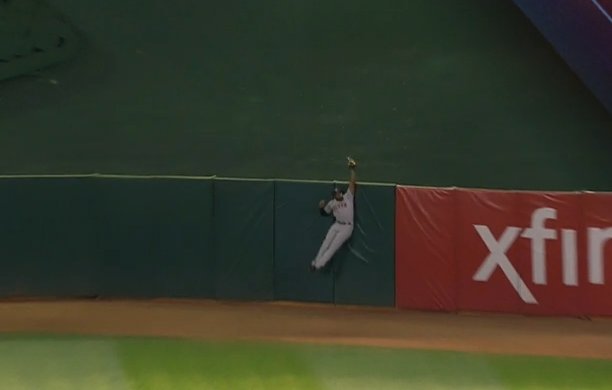 Absurd, to say the least. Unfortunately, this play really didn't matter. In the tenth, Mark Canha made sure he got all of one from Heath Hembree, as he put the nail in the coffin with his first career walk off home run, winning the game for the A's. In the month of May, Hembree has an ERA north of 7, so I don't have much to say about him.
Offensively, it would be nice if the only runs of the game didn't come when Mitch Moreland launched a two-run home run to right field in the fourth, which also scored Xander Bogaerts. Kendall Graveman is no scrub, but that A's bullpen is pretty awful and the Red Sox only managed to scatter four hits against three pitchers, which is disappointing.
Chris Sale obviously makes this team better. Without him, they're probably under .500. If this the time the Red Sox are going all in to win a World Series, then they need to stop underperforming as much as they have.
21 down, ¯\_(ツ)_/¯ to go.